---
 فروش سرور ی ارزان قیمت:
برای فروش های مختلف و بیزینس های مختلف شما باید قدرت ارائه سرور های مختلف را داشته باشید تا بتوانید به مشتری خود افر های و پیشنهاد های ویژه بدهید تا با انتخاب های بیشتری همراه باشد البته  باید مد نظر قرار بدهید که سرور های با رنج قیمت های مختلف نیز شما را در داشتن مشتریانی با قدرت های مالی مختلف پر بار میکند. 
Specifications
مشخصات و ویژگی های سرور DL 180 G9
Compute: Up to 2 Intel® Xeon® E5-2600 v3 Series, 4/6/8/10/12 Cores, PCIe 3.0, up to 6 available slot(s)
Memory: HP SmartMemory (16) DDR4, up to 2133 MHz (512 GB max)
Storage: Standard HP Dynamic Smart Array B140i, optional HP Smart Array Controllers, and HP Smart HBAs via PCIe stand-up cards
Battery: HP DL/ML/SL 96 W Smart Storage Battery to support the standup controllers
HP SmartDrives: 16 SFF/12 LFF max, HDD/SSD
Networking: Embedded 2x 1GbE, optional FlexibleLOM slot on riser
VGA/Serial/USB Ports/SD: 1 VGA, 1 Serial, 6 USB 3.0, 1 microSD
GPU Support: Single-Wide and Active (1)
On Premise management: HP OneView2 and HP iLO Advanced
On Cloud management: HP Insight Online with enhanced mobile application
On System management: HP iLO, HP SUM, Intelligent Provisioning and scripting tools; plus the new UEFI and HP RESTful Interface Tool
Power and cooling:

Up to 94 percent efficient (Platinum), 550 W multi-output, 900 W RPS1
Hot swap fans with optional redundancy

Industry compliance: ASHRAE A3 and A4, ENERGY STAR®1
Location Discovery Services: Optional
Form factor/Chassis Depth: Rack (2U), 23.9″ (SFF), 23.9″ (LFF)
Serviceability—easy install rails: Standard
Warranty: 3/1/1
---
 بررسی سرور   HP ProLiant DL180  Gen9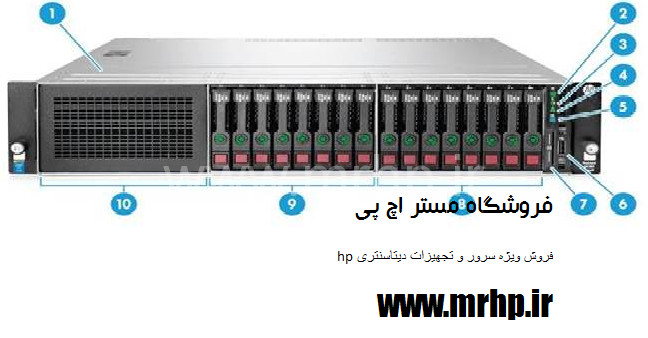 اگر از جلو نگاهی به سرور بیندازید ویویی مثل مقابل خواهد داشت
Front View
1.Access Panel ( Top Cover)
2.Power On/Standby button and system power LED
3.Health LED
4.NIC status LED
5.UID button/LED
6.USB 2.0 connector
7.Serial label pull tab
8.Fixed 8-bay SFF drive cage (box 3)
9.8-bay SFF drive cage bay (box 2, for the second 8-bay SFF drive cage option)
10.HP Media Bay (box 1, for the optical drive cage option)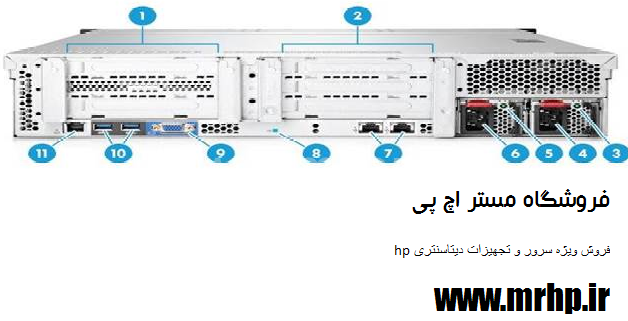 اگر نگاهی نیز به پشت سرورتان داشته باشید میتوانید این جزئیات بیشری از سرور را نیز مشاهده بکنید.
Rear view
1.PCIe3 slots 1-3 (primary, associated with processor 1)
2.PCIe3 slots 4-6 (secondary, associated with processor 2)
3.Power Supply 2 LED (Optional)
4.Power Supply 2 Power Connector (Optional)
NOTE: RPS shown in the picture.
5.Power Supply 1 LED (Optional)
6.Power Supply 1 Power Connector (Optional)
7.NIC connectors
8.UID LED
9.Video Connector
10.USB 3.0 Connectors
11.Dedicated iLO connector (optional)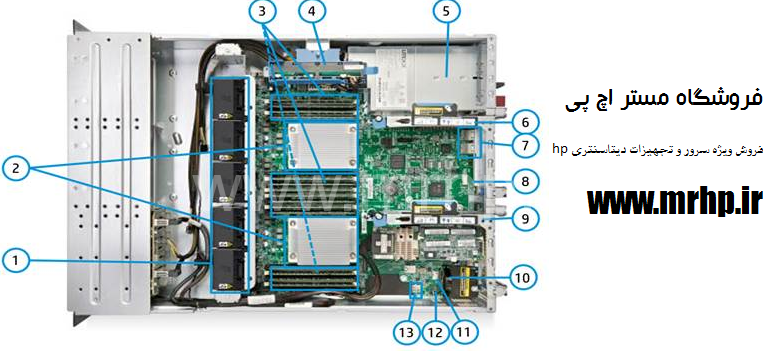 Internal View
1.Fan cage shown with 5 Hot-swap fans (for 2P Redundancy)
2.2 Processors, heatsink showing, with HP Smart Socket Guide
3.DDR4 DIMM slots. Shown fully populated in 16 slots (8 per processor)
4.Optional HP Smart Storage Battery
5.Entry level power supply bay (1x900W shown)
NOTE: RPS (with one module) shown in the picture above.
6.Connection for second (optional) riser (Required second CPU)
7.Embedded 2x1GbE NIC
8.Flexible LOM sideband signal connector
9.Primary PCIe riser, standard
10.Dedicated iLO module connector
11.MicroD card slot
12.SATA optical drive connector
13.Internal USB 3.0 connector (for USB flash devices)
نمايندگي رسمي فروش سرور اچ پي در ايران
---
Do you need a cost-effective server that can keep pace with your data growth while providing options to manage and deliver performance? The HP ProLiant DL180 Gen9 Server delivers an optimized 2U server, designed with the right balance of expandability, performance, reliability and manageability all in a new compact chassis, making it the ideal platform for SMBs and Enterprises running the "New Style of IT", applications such as Hadoop, Cloud and mobility applications which need right mix of compute and storage.
Processor family

Intel® Xeon® E5-2600 v3 product family
Number of processors
Processor core available

12 or 10 or 8 or 6 or 4
Form factor (fully configured)

2U
Power supply type

(2) Entry-Level
Expansion slots

(6) Maximum – For detail descriptions reference the
Memory
Memory, maximum
Memory slots
Memory type
Storage
Drive description

(4) LFF SAS/SATA/SSD or

(12) LFF SAS/SATA/SSD

(8) SFF SAS/SATA/SSD or

(16) SFF SAS/SATA/SSD

Hot plug and/or Non-hot plug, depending on model
Controller Cards
Network controller

1Gb 361i Ethernet Adapter 2 Ports per controller and/or
Optional FlexibleLOM on riser
Depending on model
Storage controller

(1) Dynamic Smart Array B140i and/or
(1)

H240

Host Bus Adapter and/or
(1) Smart Array

P840

Depending on model
Server management
Infrastructure management
iLO Management (standard), Intelligent Provisioning (standard), iLO Essentials(optional), iLO Scale-Out(optional) iLO Advanced (optional