سرور HPE ProLiant DL380 Gen10 Server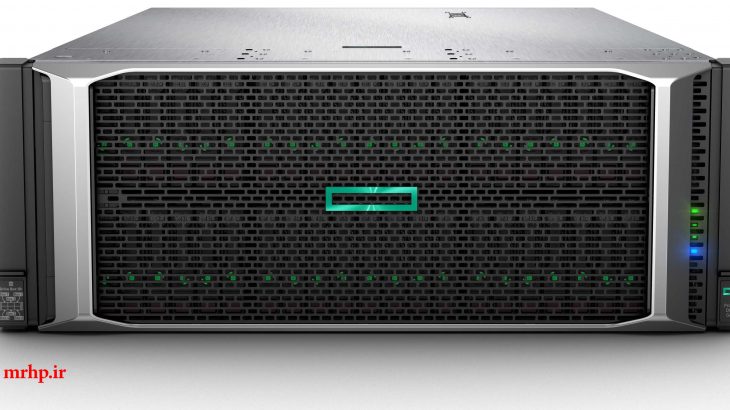 HPE ProLiant DL380 Gen10 Server – System Overview
Description
Along with an updated look and a new bezel design, the HPE DL380 Gen10 server features Intel's new Scalable processors to deliver even more cores for greater performance, expandability, and scalability. This platform is extremely versatile accommodating a number of different chassis configurations with remarkable storage flexibility to support diverse workloads including, containers, cloud, virtualization, and big data applications. There are also options for expanded persistent memory and persistent storage capacity, significantly increasing performance for database and in-memory applications like SAP HANA and Oracle.
Performance
Intel's Xeon E5 processors are not supported on this platform. Instead, the HPE DL380 Gen10 is powered by Intel's new C621 chipset supporting Intel's new Scalable Family of processors including; the Platinum 8100 series, two flavors of Gold, the 6100 series and 5100 series, the Silver 4100 series, and the Bronze 3100 series processors. Depending on your need for cores, storage, or both, the new processors offer 4 to 28 cores. A higher core count provides greater processing power and more containers or VMs to support different workloads in the same chassis. A flex slot power supply allows users to "right-size" the PSUs for specific server configurations, and given the number of configurations possible, this is a critical aspect to reducing power consumption. The new generation of PSUs have also been upgraded supporting efficiencies of 94% and 96%, respectively. Cooling is provided by a bank of four fans for a single processor deployment, six fans for dual processors, and six high performance fans are recommended when the system is outfitted with a full complement of hard drives, in certain configurations.
Memory
To achieve faster performance, each processor supports six memory channels with two memory modules per channel. 12 DDR4 memory modules are controlled by each processor, for a total of 24 total memory modules with a two-processor configuration. With only one CPU installed only half the DIMM slot are available. Memory speeds of up to 2666 MT/s are supported on HPE's Gen10 servers, but keep in mind, memory speed is a function of the processor model, memory type, and memory configuration. The system supports unbuffered (UDIMM), registered (RDIMM), load-reduced (LRDIMM) and NVMe (NVDIMM) modules, but mixing memory modules of different types is not supported. The system will support a maximum of 3TB using 24 x128GB LRDIMM memory modules, or half that using 64GB memory modules. Standard memory configurations include anywhere from 16GB to 64GB for a base configuration, but all pre-configured models will support a maximum of 3TB using an optional memory configuration as described above. HPE SmartMemory is tested and qualified by HPE to deliver the highest level of performance and bandwidth.
Storage
The HPE DL380 Gen10 is highly adaptable and flexible, supporting up to 190TB using 12 front mounted LFF drives along with an optional mid-plane HD carrier that supports 4 LFF drives internally and sits above the CPUs and memory modules. A number of optional rear mounted drive cages support additional SFF and LFF hard drives. Several chassis configurations are available depending on your workload needs.
8 LFF drive chassis with Universal Media Bay
12 LFF drive chassis + optional 4 LFF mid-plane or 3 LFF + 2 SFF rear mounted drives
24 SFF drive chassis + optional 6 SFF rear-mounted drives
8 SFF drive chassis with Universal Media Bay, + 2 optional front mounted SFF or NVMe drives
20 SFF NVMe drive chassis with partial population of box1 on the front of the system
Certain configurations support an optional Universal Media Bay for an optical drive. Many of the configurations may require one of several different optional drive cages which will take the place of an expansion riser, and include options for 6 SFF, 2 SFF, and 3 LFF drive cage. The 8 NVMe drive option is only available in the SFF chassis. The 8-bay chassis can also be upgraded to support 16 or 24 SFF drives. A 20 NVME drive option requires an optional HPE Smart Storage Battery. All chassis have an embedded S100i Smart Array Controller with software RAID support and SATA ports for 14 drives, two of which can support two optional M.2 storage devices in the primary riser that can be used for additional storage or for fast boot up. Administrators also have a choice of several HP Smart Array storage controllers specifically designed for the Gen10 platform supporting a full range of RAID options. There is also an integrated MicroSD card slot on the system board behind the power supplies. Administrators can also install an optional Dual Micro-SD module for failsafe hypervisor support.
Expansion
There are a maximum of eight PCIe 3.0 expansion slots on the DL380 Gen10 server. For all eight expansion slots to be active requires two optional risers, and the second riser requires a second CPU. The system also features embedded 4 x1GbE, and a choice of HPE FlexibleLOM and the ability to choose network bandwidths from 1GbE to 40GbE or fabric with a suitable PCIe card. For high performance computing and complex animation, the system will also support up to five single-wide or three double-wide GPU options. Additional expansion cards can significantly increase I/O, graphics support, high performance computing, or additional storage both internal and external.
Management
Management of the new Gen10 servers has been upgraded with the new integrated Lights Out 5.0 (iLO) management chip. iLO 5.0 offers out of band access to your system and can enable remote access from a standard browser. iLO 5.0 delivers new capabilities and a simplified dashboard with a thumbnail of system status that continually refreshes. The management chip is essential to make the server operational and boot with simplified setup, health monitoring, and power and thermal caps. iLO Standard is included, but for more robust management features, the chip is easily upgraded with the purchase of a license key. Depending on your management needs, Administrators can choose from, iLO Essentials, iLO Advanced, iLO Advanced Security Edition, and iLO Scale Out. HPE OneView can also be used to provide essential management of multiple generations of HPE servers.
Summary
The 2U, 2S HPE ProLiant DL380 Gen10 represents a significant upgrade from the previous generation. With Intel's new Scalable Processor Family of processors, it can delivers an impressive 71% performance gain and a 27% increase in core count. New HPE DDR4 SmartMemory also boasts data transfer rates of 2666 MT/s which is 11% faster than comparable DDR4 memory operating at 2400 MT/s. Add that to a significant increase in storage, plus persistent memory and storage options and It's certainly no exaggeration when HPE says the world's best-selling server just got better.
HPE ProLiant DL380 Gen10 Server – Specifications
PROCESSOR – 2 SOCKETS
Intel® Xeon® Platinum Processors
Intel® Xeon® Gold Processors
Intel® Xeon® Silver Processors
Intel® Xeon® Bronze Processors
OPERATING SYSTEMS AND VIRTUALIZATION SOFTWARE SUPPORT
Windows Server 2012 R2 (Most Recent Version)
Windows Server 2016 (Most Recent Version)
VMware ESXi 6.0 U3
VMware ESXi 6.5 and U1 upon release
Red Hat Enterprise Linux (RHEL) 6.9 and 7.3
SUSE Linux Enterprise Server (SLES) 11 SP4 and 12 SP2
ClearOS
CentOS
ON SYSTEM MANAGEMENT CHIPSET
MEMORY
Type:
Registered (RDIMM), Load Reduced (LRDIMM)
DIMM Slots Available:
12 DIMM slots per processor, 6 channels per processor, 2 DIMMs per channel
Maximum capacity (LRDIMM):
1.5 TB: 24 x 64 GB LRDIMM @ 2600 MHz
Maximum capacity (RDIMM):
768 GB: 24 x 32 GB RDIMM @ 2600 MHz
EXPANSION SLOTS
| Slots # | Technology | Bus Width | Connector Width | Slot Form Factor | Notes |
| --- | --- | --- | --- | --- | --- |
| 1 | PCIe 3.0 | X8 | X8 | Full-height, Half-length slot | CPU 1 |
| 2 | PCIe 3.0 | X16 | X16 | Full-height, Full-length slot | CPU 1 |
| 3 | PCIe 3.0 | X8 | X8 | Full-height, Half-length slot | CPU 1 |
| 1 | PCIe 3.0 | X8 | X8 | Full-height, Half-length slot | CPU 2 |
| 2 | PCIe 3.0 | X16 | X16 | Full-height, Full-length slot | CPU 2 |
| 3 | PCIe 3.0 | X8 | X8 | Full-height, Half-length slot | CPU 2 |
STORAGE CONTROLLERS
Software RAID
HPE Smart Array S100i SR Gen10 SW RAID
Essential RAID Controller
HPE Smart Array E208i-a SR Gen10 Controller
HPE Smart Array E208i-p SR Gen10 Controller
HPE Smart Array E208e-p SR Gen10 Controller
Performance RAID Controller
HPE Smart Array P408i-a SR Gen10 Controller
HPE Smart Array P408i-p SR Gen10 Controller
HPE Smart Array P408e-p SR Gen10 Controller
HPE Smart Array P816i-a SR Gen10 Controller
INTERNAL STORAGE DEVICES
Optical Drive
Ships standard in Performance Models. Optional: DVD-ROM, DVD-RW
Hard Drives
MAXIMUM INTERNAL STORAGE
| | | |
| --- | --- | --- |
| Hot Plug SFF SAS | 72.0 TB | 24+6 x 2.4 TB (with optional rear SFF drive cage) |
| Hot Plug SFF SATA | 52.0 TB | 24+2 x 2 TB (with optional SFF drive cage) |
| Hot Plug LFF SAS | 197.68 TB | 12+4+3 x 10 TB + 2 x 3.84 TB (with optional mid –tray and rear LFF drive cage, plus 2 SFF SSD rear) |
| Hot Plug LFF SATA | 197.68 TB | 12+4+3 x 10 TB + 2 x 3.84 TB (with optional mid –tray and rear LFF drive cage, plus 2 SFF SSD rear) |
| Hot Plug SFF SAS SSD | 115.2 TB | 24+6 x 3.84 TB (with optional rear SFF drive cage) |
| Hot Plug LFF SATA SSD | 44.16 TB | 12+4+3 x 1.92 TB + 2 x 3.84 TB (with optional mid –tray and rear LFF drive cage, plus 2 SFF SSD rear) |
| Hot Plug SFF NVMe PCIe SSD | 40 TB NVMe | 20 x2 TB NVMe |
POWER
HPE 500W Flex Slot Platinum Hot Plug Low Halogen Power Supply Kit
HPE 800W Flex Slot Platinum Hot Plug Low Halogen Power Supply Kit
HPE 1600W Flex Slot Platinum Hot Plug Low Halogen Power Supply Kit
SYSTEM FANS
Standard – fan types included
INTERFACES
Display Port:
1 (SFF 1 front, optional via Universal Media Bay, 826708-B21), 8 LFF chassis standard
FlexibleLOM Network Ports:
4 x 1 Gb ports shipping standard with optional FlexibleLOM or stand up card
HPE iLO Remote Management Network Port:
Front iLO Service Port:
1 standard (Not available on 12 LFF chassis or when SID is ordered)
Micro SD Slot:
USB 3.0:
Up to 5 total: 1 front, 2 rear, 2 internal (secure), 2 optional USB 2.0 front via Universal Media Bay, or standard on 8LFF chassis
SID (Systems Insight Display):
GRAPHICS
Integrated Video Standard
HPE iLO 5 on system management memory
CHASSIS
Chassis Types:
8 SFF with optional Universal Media Bay, and optional SFF or NVMe options
24 SFF bay with 6SFF rear drive bay options with 30 SFF drive bays total
8 LFF with Universal Media Bay
12 LFF plus optional 4 LFF mid-plane or 3LFF + 2 SFF drives rear with 19 LFF drive bays total
EMBEDDED MANAGEMENT
HPE Integrated Lights-Out (HPE iLO)
UEFI
Intelligent Provisioning
iLO RESTful API
SECURITY
UEFI Secure Boot and Secure Start support
Immutable Silicon Root of Trust
FIPS 140-2 validation (iLO 5 certification in progress)
Common Criteria certification (iLO 5 certification in progress)
Configurable for PCI DSS compliance
Advanced Encryption Standard (AES) and Triple Data Encryption Standard (3DES) on browser
Support for Commercial National Security Algorithms (CNSA)
Tamper-free updates – components digitally signed and verified
Secure Recovery – recover critical firmware to known good state on detection of compromised firmware
Ability to rollback firmware
Secure erase of NAND/User data
TPM (Trusted Platform Module) 1.2 option
TPM (Trusted Platform Module) 2.0 option
Bezel Locking Kit option
Chassis Intrusion detection option